100% Quality Since 1933
In 1933 German immigrants William and Robert Hummel borrowed 1,000.00$ to purchase a bankrupt company called Phil's Sausage Kitchen. Since both William and Robert had been apprentice ( Wurstmachers) sausage makers back in Germany they knew what it would take to make the highest quality product to offer their customers. With hard work and a dedication to their craft Hummel Bros. soon became a household name.
Hummel Bros. Grows
Within 20 years business had grown and sales were booming. In 1955 Hummel bros. needed to expand its manufacturing facility. A new addition was added on to Hummel's exsisting plant on Congress Ave. With the new smokehouses and increased kitchen size Hummels was able to keep up with the growing demand for it's products.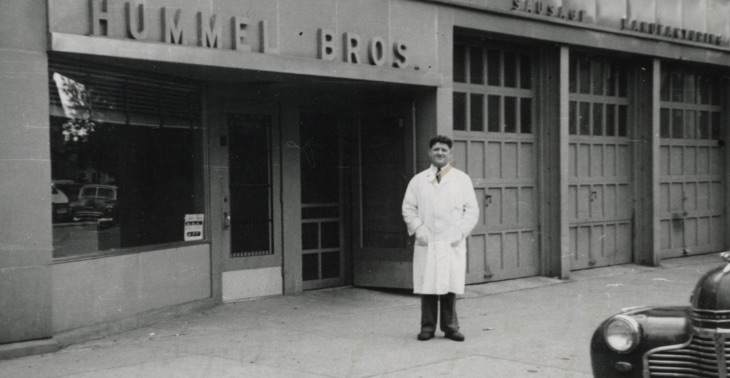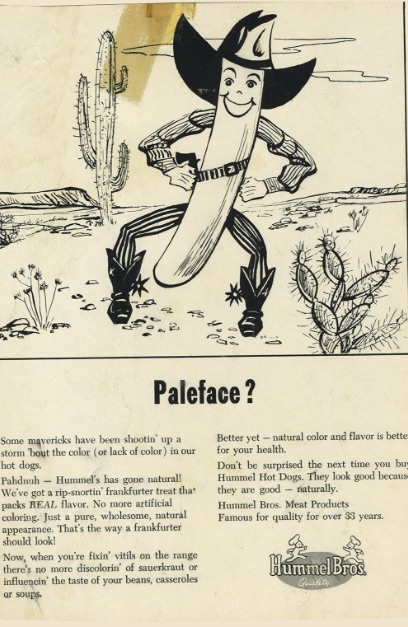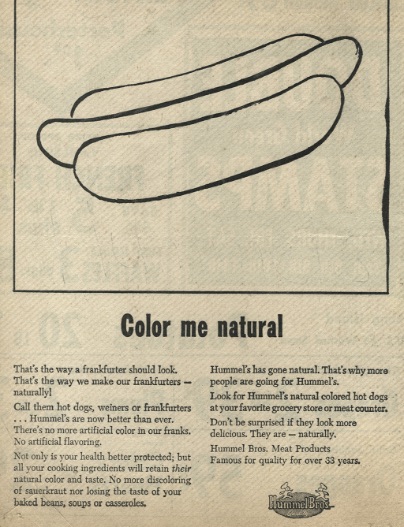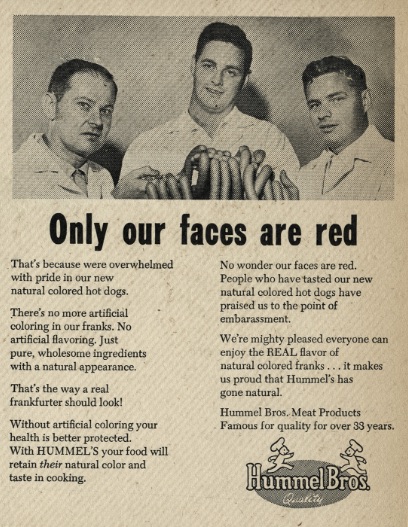 Ahead of the Time in Ads
One of the most vital ad campaigns done by Hummels was to educate the public about the natural color of hotdogs. Hotdogs used to be colored by using a red dye. After many changes by the government on which red dyes were safe or not safe to use Hummels decided to totally remove red dye from the manufacturing process. The public, used to a bright red hotdog, needed to be educated on the health benefits of removing the dye and making an all natural colored hotdog. Hummel was one of the first companies to make hotdogs with their natural color.
Growing Our Fleets
In the 1960's Hummels popularity had grown throughout the state. In order to service these new customers Hummels needed to add more trucks to it's fleet. The truck in this picture was the first and only dairy style truck. Hummel trucks were easy to spot back in the days. All were painted green and all the lettering was done in gold leaf.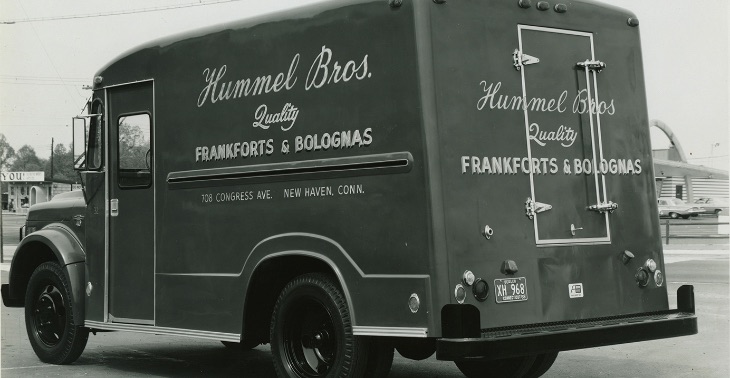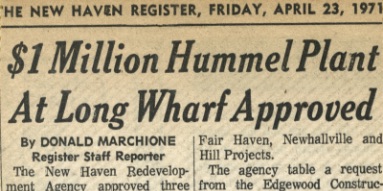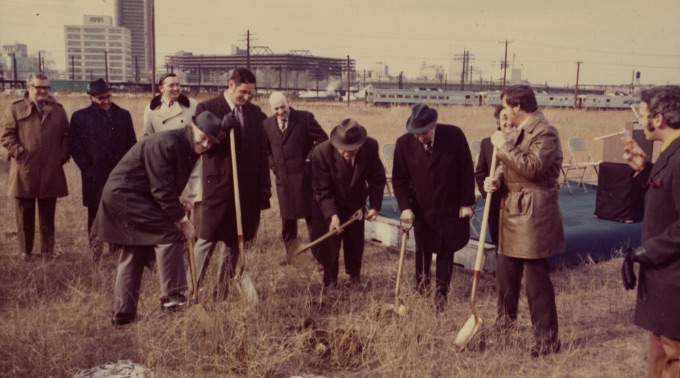 A New Home in New Haven
By the early 70's Hummels had outgrown its manufacturing facility on Congress Ave. Construction started on a new state of the art facility located in the newly developed Long Wharf Food Terminal Area. Opened officially in 1972 The Long Wharf plant is the official home for Hummels. Some 25 years after the opening of the long wharf plant Hummels needed to expand again and an addition for increased manufacturing space was added.
1973 New Haven Grand Opening
In 1973, construction on Hummel's new processing plant was finished. In November of that year, Hummel's held a huge grand celebration. Attending the celebration were not only family, friends and customers, but many of New Haven's politicians including Mayor Bart Guida (a long-time friend of the Hummel family). Since that day Long Wharf has been home for Hummel Bros. Over the years, as Hummel Bros. has grown we have expanded this facility allowing us to meet the needs of our ever-growing customer base.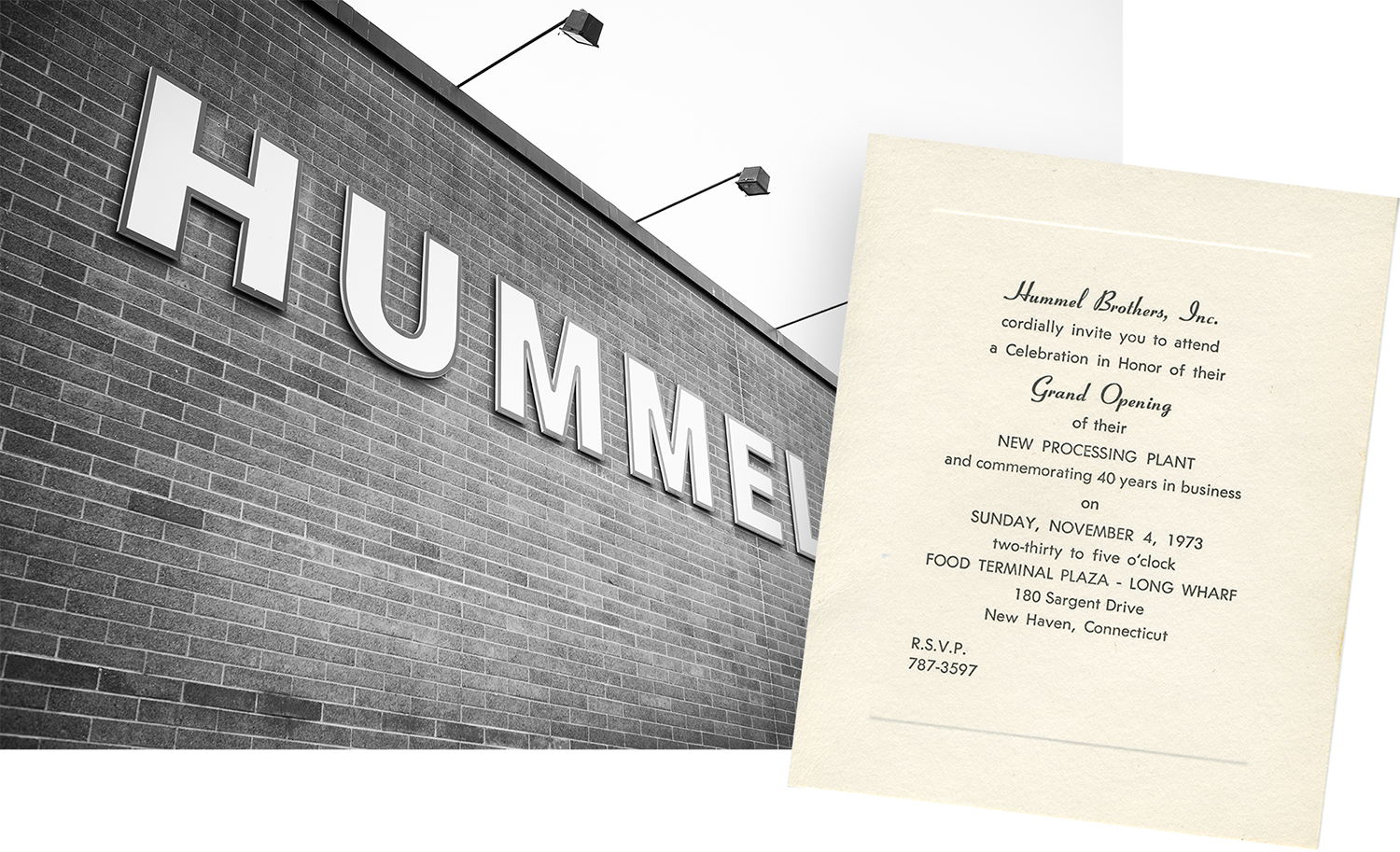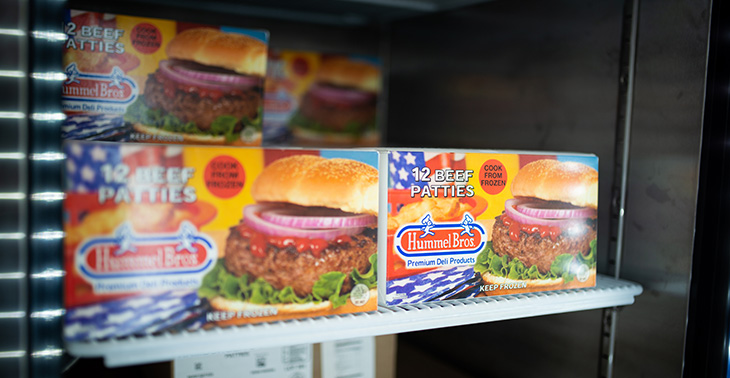 2000 to Present
Using the past as a guide, the 3rd generation continues to produce only the highest quality products in the marketplace. As technology has changed, we have replaced outdated equipment to new state of the art equipment and smokehouses, allowing us to innovate and stay true to the grand father's "quality-first" philosophy.
Slideshow Gallery of Our History